Rebresearch Me100 Hydrogen Generator
Generate hydrogen without electrolysis...
The only hydrogen generator to include a metal membrane. Makes water-free, ultra-pure hydrogen safely from methanol - water reforming.

The REB (Me100) Hydrogen Generator, provides a unique source of ultrapure hydrogen H2 for laboratory fuel cell tests, gas chromatography, braze furnaces and electronic chip production. It will run continuously for a weekend our more. At 17" X 13" X 13" and 15 lbs., it's small enough to fit comfortably on a lab bench or in a hood. Far safer than bottled gas. Contact us to purchase one.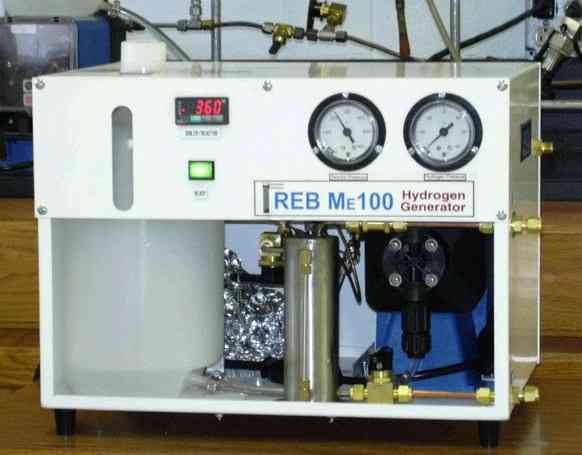 Operation
The Me 100 generates hydrogen by reforming methanol and water in a membrane reactor, a unique type of reactor that purifies the hydrogen through a metal membrane as it is generated by methanol reforming. Plug the Me100 into a standard 120 V outlet to power the pump, heater and controller, fill with 1:1 (molar) or 2.5:1 (by volume) and turn on. The pump compresses the methanol-water mixture and pumps it through the boiler and into the membrane reactor.
The membrane reactor extracts pure hydrogen as it is produced, greatly enhancing the efficiency of the reaction, and resulting in hydrogen that does not contain water vapor as electrolysis hydrogen generally does. Waste gas exits separately. The methanol-water feed rate can be adjusted at the pump. Since the hydrogen is ultra pure, it can be used to feed a fuel cell in dead-end mode. See here.
Information
Me100-1 (500sccm)

Make up to 500 sccm of 99.99995% pure hydrogen from a 1:1 mix of methanol and water. Safer and cheaper than bottled gas. Enough output to generate 50 W in a standard PEM FC. Hydrogen delivery to 40 psi, follows load. Adjust the H2 pressure and flow rate by varying the load or methanol-water input. Waste gas delivered separately.

$11,250

---

Me100-2 (1.2 slpm)

Make up to 1.2 slpm of 99.99995% pure hydrogen from a 1:1 mix of methanol and water. Safer and cheaper than bottled gas. Enough output to generate 100 W in a standard PEM FC. Hydrogen delivery to 40 psi, follows load. Adjust the H2 pressure and flow rate by varying the load or methanol-water input. Waste gas delivered separately.

$14,000

---

Me100-5 (2.8 slpm)

Make up to 2.8 slpm of 99.99995% pure hydrogen from a 1:1 mix of methanol and water. Safer and cheaper than bottled gas. Enough output to generate 250 W in a standard PEM FC. Hydrogen delivery to 40 psi, follows load. Adjust the H2 pressure and flow rate by varying the load or methanol-water input. Waste gas delivered separately.

$19,000

---

Me100-10 (5 slpm)

Make up to 5 slpm of 99.99995% pure hydrogen from a 1:1 mix of methanol and water. Safer and cheaper than bottled gas. Enough output to generate 500 W in a standard PEM FC. Hydrogen delivery to 40 psi, follows load. Adjust the H2 pressure and flow rate by varying the load or methanol-water input. Waste gas delivered separately.

$25,250

---

Me150 (75 slpm)

Make up to 75 slpm of 99.99995% pure hydrogen from a 1:1 mix of methanol and water. Safer and cheaper than bottled gas. 9.6 kg of gas/ per day, enough for a hydrogen fueling station or braze furnace. Hydrogen delivery to 40 psi, follows load. Adjust the H2 pressure and flow rate by varying the load or methanol-water input. Waste gas delivered separately.

$155,000

---

Methanol Water

Also for sale: 2.5 gallon containers of approved methanol -water mixture (2.5/1 volume ratio). Works with either size Me100. Each container makes the equivalent of 10 standard cylinders of UHP hydrogen.

$20/2.5 gallons